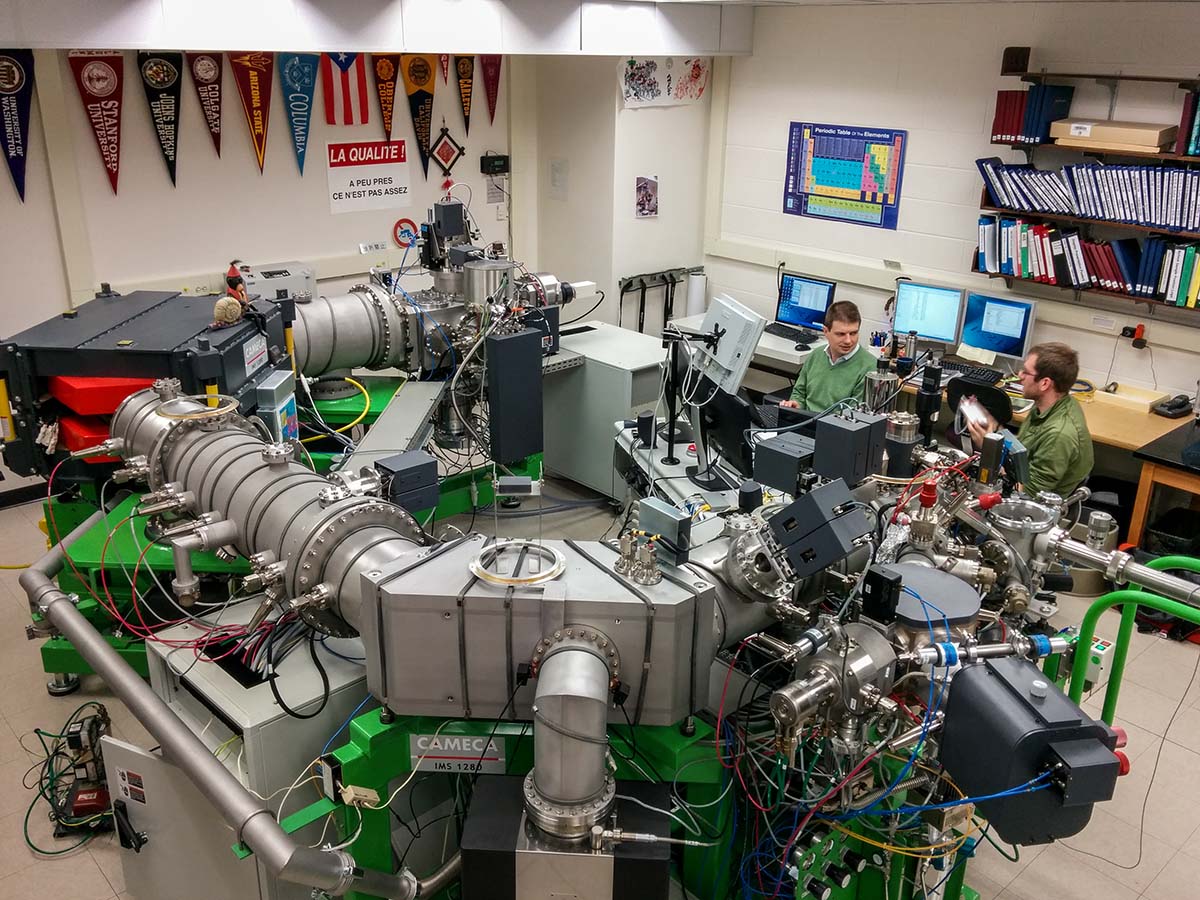 WiscSIMS, the Wisconsin Secondary Ion Mass Spectrometer Laboratory, explores new applications of in situ analysis to stable isotope geochemistry. Research in many disciplines can benefit by using the IMS-1280 ion microprobe, a CAMECA large radius magnetic sector SIMS. The dramatic reductions of sample size and analysis spot sizes from 1 to 10 micrometers offer many exciting, potentially revolutionary, research opportunities.
Postdoctoral Position in Crust-Magma Evolution
(Apr. 12, 2022)
University of Wisconsin-Madison, WiscSIMS lab
Research will examine zircons and melt inclusions from Hadean to Recent employing SIMS and correlative techniques for analysis of age and chemistry, including volatiles and stable isotopes. Previous experience with one or more of the following areas is required: igneous geochemistry, stable and radiogenic isotopes, zircons, SIMS, SEM, EPMA, or mass-spectrometry.
Please submit by e-mail: a cover letter, reprints of papers, and CV with the contact information of 3 or more references to John Valley, Dept. of Geoscience at valley@geology.wisc.edu. Applications will be reviewed starting June 25 and will be accepted until positions is filled.

The University of Wisconsin is an equal opportunity employer, and we encourage applications from candidates who contribute to an inclusive and diverse environment.
Funding is available up to 3 years from ERC Synergy grant, Monitoring Earth Evolution through Time (MEET). Download description at:
https://gsil.wiscweb.wisc.edu/meet-monitoring-earth-evolution-through-time/
For External Users
(Oct. 8, 2020)
WiscSIMS laboratory has been reopened since June, but under limitsed access following the University of Wisconsin rules and safety protocols. Currently, outside users are not allowed to enter the laboratory, which may continue for the foreseeable future.
We have been analyzing samples for external users without them being present in the laboratory. External users provide sample images on which they have indicated analysis spots or locate them in QGIS. The analyses are then conducted by WiscSIMS staff scientists using these images. While the preselection of points is not always ideal, it can lead to enhanced analytical efficiency (more analyses per analysis day) and can allow in some cases for additional unattended analysis in the evening.
WiscSIMS scientists may communicate closely with external users during analyses session and provide updates on their results. This will allow users to have flexibility on their analytical plans, such as selecting more analysis positions of specific samples to further clarify unexpected findings, or reducing number of analyses from a sample that show small variabilities.
Although this analysis protocol may not work for every sample, we welcome those who think this might work for them. Please contact us if you are interested in doing analyses in this way. Obtaining sample images is responsibility of external users, though we can assist users who do not have access to microscopes and SEM facilities.
Except for the prohibition of outside users in the laboratory, we are following the same procedures as before Covid19. To apply for instrument time and user check list see our website.
News