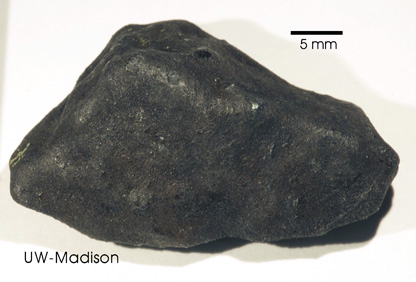 Meteorite that fell on Southwest Wisconsin April 14, 2010.
Welcome
The Department of Geoscience in the College of Letters and Science at UW-Madison, offers a wide range of specialty areas, and is supported by advanced laboratories for study in the general areas of astrobiology, geomicrobiology, mineralogy, petrology, geochemistry, geophysics, stratigraphy, sedimentology, paleobiology, paleoceanography, micropaleontology, structural geology, tectonics, hydrogeology, Quaternary geology, and economic geology. Interdisciplinary links among other colleges and departments on campus provide opportunities in geological engineering, limnology, ecology, microbiology, water resources management, soils, water chemistry, chemistry, physics, geomorphology, materials science, and anthropology.
Announcements
A seven-gram piece of the meteor that blazed through the skies of southern Wisconsin on April 14 was brought to the Museum by a landowner. Initial analysis by SEM imaging and chemical analysis by EDS (John Valley, Noriko Kita, Taka Ushikubo) confirmed the fragment as a meteorite. Read updates here.


posted April 19, 2010

Congratulations to Caitlin Keating-Bitonti, Dan Murray and Kelsey Winsor, recipients of the three-year National Science Foundation Graduate Research Fellowship.


posted April 9, 2010

VICTORY AT POINT OF ROCKS! - Now a State Historical Site.


posted Feb. 22, 2010

NEW RESEARCH ASSISTANTSHIPS:
The Department of Geoscience is pleased to announce the availability of a new program of graduate research assistantships funded by BP.

Geoscience Students in the News
Students size up seismic sensor sites
University of Wisconsin Madison students Matthew Kogle and Kelly Hoehn logged thousands of miles this summer driving rural Wisconsin roads, scanning the landscape. When they found a promising spot, they knocked on the door of the nearest farmhouse and tried to interest the owners in their cause. (Read more)

posted July 29, 2010



Faculty in the News